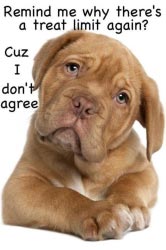 Our pets are one of the most important members of our family and as we improve our diet and lifestyles, it is equally important to do so for our pets. Added grains and sugars that are common place in traditional food today are also common in your pets food as well. Read all the ingrediants prior to purchasing your products and think about what kind of food your dogs/or cats were designed to eat. One clue is their teeth!. Cows have flat teeth for chewing on grains and grasses, so it is appropriate for cows to eat grasses and grains. Dogs and cats have sharp meat ripping teeth, as that is the type of food they were designed to eat. So all that added grains, although tasty, were not part of the food dogs and cats were designed to eat.

Historically when our ansestors ate grains, they were fermented and made to be more easily digestable and more nutritions than the grains of today. So check the resources available to you; your vet, the web, and some articles below. Be kind to your dog. He/she will thank you for it with good health, longevity and an amazing happy personality. The food that they eat should support their physiology which will improve their organ and cellular function and ultimately improve their resistance to diseases.
Activities with your Pets
Long walks through the trails, golf courses, or just down your street can be quite a treat for your four legged friends. In my neighborhood, some of the cats follow thier doggy siblings on walks around the development, it's quite hilarious. Just like we need exercise to strengthen our hearts, oxginate our organs/systems and communicate with each and every cell in our body, your little pooches and kitties need that same stimulation. In fact, some believe they need it more! I know that I am short in statue and it's hard to keep my weight managed, but try being a small dog or cat, living on this americianized pet food! It is not just the little children in our society that are becoming overweight and developing Type 2 Diabetes, it is also happening to our furry little friends.
| | |
| --- | --- |
| | |

Canine Doggy Dancing, Fly Ball and Fly Frisbee are a few other exercise treats for you and your pet. These types of activities require some training, but the training is fun for both you and your pet. I have attached a few photos of my sister Carrie Neri performing Canine Doggy Dancing and Fly Frisbee. My friend, Gail Mirabella, lives in our area (Jefferson) when she is not out traveling with her amazing show dogs. Check out her website www.thedynamodogs.com She attends several local events to help raise money for "no kill shelters" and other volunteer groups. I have attached a little information about Gail on this site as well.
Supplements
Many people today are taking some form of vitamin or mineral supplements. There is much talk in the media of the health benefits of supplements such as fish oil, Co -Q10, Glucosamine, probiotics and so much more. It is important to talk to your vet professional about supplements prior to putting your pets on them. Supplements that are sold over the counter are not well regulated and they can sometimes cause harm to your pets. Vets have a licence to carry some amazing nutritional supplements that ARE regulated by the FDA and they have special training as to how to use them. Not all Vets are experienced with them, so you just need to ask.
Holistic Vets and other types of Natural Vets are very knowledgeable with how to use supplements to facilate a quicker and more full recovery. Some of my favorite supplements are those from the company Standard Process. I use them to help people heal, and Vets use them to help animals heal. The company has been in business since the late 1920's and their organic farm gets bigger each year, while never compramizing on quality. Their belief in using raw, concentrated materials and tissue extracts, prepared with cold processing, has yielded amazing results for anyone who has had the pleasure of taking their products. I have been to their farm and processing facility in Wisconsin, and its the real deal!
I am trying to encourage more local Vets to get excited about carrying the Standard Process line in their clinics as an nutritional adjunct to their current treatments. Currently I am referring my clients who want a holistic approach to their pets care to a colleague of Nutrition Response Testing in Stone Mountain, Dr. Cameron Moorehead, DVD
Local Holistic Vet
Dr. Cameron Moorehead, DMV, is a local Veterinarian who specialized in traditional veterinary medicine and alternative medicine. Below you can review the training and specialties he holds, but I am most excited about his Masters Certification in Nutrition Response Testing (SM). Dr. Moorehead's website is below and his practice is located in Stone mountain. www.mainsvets.com If you have a pet and you'd like to try alternative methods to their care, Dr. Moorehead is your guy.
Graduated from Tuskegee University in 1988.
Established MainStreet Veterinarians of Stone Mountain in January 1995
Operates a full veterinary practice including grooming, boarding, surgery, x-rays, traditional alternative medicine
Started alternative medicine in 1998 utilizing CRA (Contact Reflex Analysis)
Got his Masters of Nutrition Response Testing in March 2008
Practices AACT (Advance Allergy Clearing Technique), VOM (Veterinary Orthopedic Manipulation and Nutrition Response Testing. The later utilizes advanced applied kinesiology and muscle testing. He is trained in this disciplicine for both pets and humans.
Helpful Websites
http://healthypets.mercola.com Dr. Becker DVM shares a wealth of knowledge regarding assessments, foods to eat-not to eat and much more helpful advice
The best and worst foods to feed your pet
Once you have viewed the website above, there are many more video's on the righ hand side that you can "click"on for more infomation. The video's do come from the first "healthypets" website so you can find most topics of interest there as well.